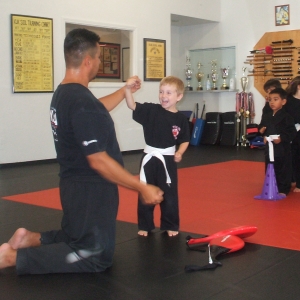 Turtle Tots (3 to 4 years old)
Turtle Tots are our youngest group of students. They participate in classes that offer an introduction to martial art training. In their class we focus on gross motor and social development. Our lessons increase their focus and lengthen their attention span. Children increase their ability to follow multiple step requests and develop respect for others and for rules and directions. This class also focuses on discipline, sharing, patience, and basic martial arts kicks and punches with fun games. Students in this class are building skills that will last a lifetime.
Dragons (5 to 6 years old)
Students in the Dragons class are building a strong foundation for martial arts. Their curriculum rotates through eight areas of development: focus, discipline, control, balance, teamwork, coordination, memory and fitness. The activities we offer reflect each individual's age and ability. Students are able to grow at their own pace, which assists with the development of confidence and a strong sense of self. This program prepares students for the higher level children's classes.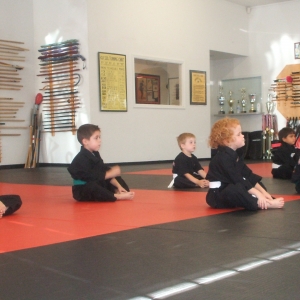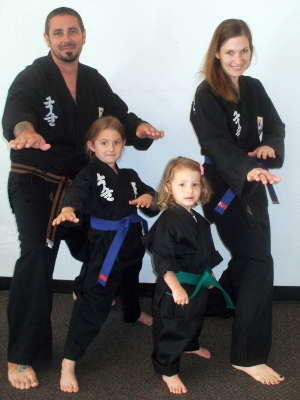 Children's Program (7 to 12 years old)
Our children's program is designed to help students develop focus, discipline, and respect. The activities that are done in class help to improve coordination and balance. The belt system is designed to teach students to set goals and to feel proud when they accomplish them. In this program, students begin testing and earning higher ranks in our martial art. They learn commitment and perseverance that they are able to apply to other areas of their life, including school. Our children's program also incorporates fun games in class while learning the Kuk Sool Won curriculum.
Teens and Adults
We have multiple classes offered for teens and adults. We are open 6 days a week and have classes ranging from beginning to advanced available each day.
Kuk Sool will be your outlet for stress and tension. It will increase your stamina, expand your cardiovascular fitness and improve your overall physical condition. No matter what your age or interests the movements in Kuk Sool can be as graceful as ballet and as strong as metal, which makes them infinitely more interesting than the usual aerobic workouts. In addition to providing a total fitness program, we train you in self-defense techniques which enhance your capability to effectively defend yourself.
Our Martial Art Programs will teach you to effectively, and quickly, defend yourself in any situation. If you're new, we'll start from the beginning, helping you adapt to the unique movements and philosophies of Kuk Sool Won Martial Arts. If you're a pro, we'll help you take your skills to the next level.